Universal accessibility, so that everyone can take part 
Offering visitors universally accessible services and installations became a real focal point for the Montréal Science Centre (MSC) in 2021 and marked an important milestone for us.   
Universal accessibility is about making activities available to everyone, no matter their needs, abilities or limitations. Here are some of the concrete ways the Science Centre worked to make itself accessible to as many visitors as possible.
Employee Training 
The MSC now offers its employees special training to help them better serve visitors with special needs. This training was developed with the help of Kéroul, an organization specialized in making tourism and cultural activities accessible to those with physical limitations.  
"We met with two individuals with physical disabilities, and they helped us learn how to better welcome visitors with special needs and how to be more responsive to them. They spoke to us about the everyday realities of living with a disability. Their visit really helped raise our awareness," explains Catherine Sauvé, Manager of Guest Services at the Centre. Sara Arsenault, one of the Centre's project managers, says that employees acquire important new skills thanks to this training program.
After a year on hiatus during the pandemic, employee training sessions started up again when the Centre reopened in September 2021.
A Forward-Looking Upgrade 
The Centre's newest exhibition, Mini Mondo, made for kids aged 0 to 7, was designed to be almost entirely accessible to visitors in wheelchairs and the exhibition's project manager Élodie Robert is just thrilled. "With the exception of the second floor of the exhibition's little house, visitors can access every part of the exhibition hall from their wheelchair," she explains, adding that Kéroul also took part in improving universal accessibility across the entire Centre.
For her part, Science Centre Director Cybèle Robichaud considers it forward-looking to have equipped the Centre with a special changing room. "It's more than just a washroom for a visitor in a wheelchair. It also includes a changing table to accommodate visitors in wheelchairs who are older or full-grown," she explains.  
"We also have new gender-neutral washrooms, which are essentially all-gender washrooms that feature individual stalls with doors. Simple but innovative," continues Robichaud. Besides being inclusive for those who identify with a gender other than the one they were assigned at birth, these washrooms make it much easier for any parent to take any of their children to the washroom. They are also equipped with lower height sinks and tall vertical mirrors that make them easier to use by visitors in wheelchairs and visitors who are short in size.

Customized Activities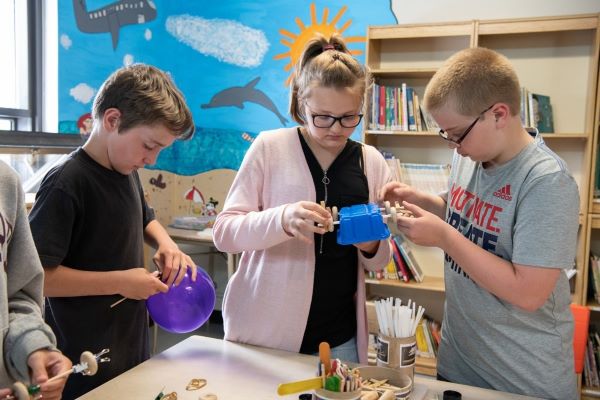 Photo: Montréal Science Centre
Robichaud is also happy about "another activity that we are really proud of… the Science Centre on the Road program. During the 2017-18 school year, we took a chance and launched a special program offered directly in classrooms and designed for students with special needs, like those with behavioural, autism spectrum, and communication disorders." The program's approach changed the rules by adapting itself to students rather than asking students to do the adapting. It not only worked but even earned itself the Télé-Québec jury's choice award from the province's museum association, Société des musées du Québec, in 2019.
And this fall, the MSC and its IMAX®TELUS theatre began inviting families with children with special needs to a new series of events called Peaceful Mornings, held monthly on a Sunday from 9am to 11am. These events feature reduced visitor traffic, quiet spots for when visitors need to take a break, and reduced stimuli inside exhibitions halls, particularly in terms of sound and brightness.
Resources for Friendlier Visits

The Science Centre also put together a special guide to help families plan their visits. "The guide helps visitors find their way to the Centre, helps those with mobility impairments locate special parking, and identifies building access points as well as areas in the building likely to be very bright or very loud, or where there may be strong smells (like popcorn). For those with autism spectrum disorders, brightness, noise and odours are sometimes major barriers which make visits more difficult," explains Catherine Sauvé. She adds that the guide allows families to learn about all of the Centre's interactive activities in advance so they can choose the ones best suited to them.    
Informed by Personal Experience
Science Centre Director Cybèle Robichaud is well versed in the everyday realities of children with special needs. Her 12-year-old daughter is not mobile. "Frédérique is in a wheelchair and is non-verbal. Her eyes just light right up when she visits the MSC. She feels right at home and enjoys her time there. I honestly couldn't think of a better reason for the Centre to have implemented all these meaningful upgrades!"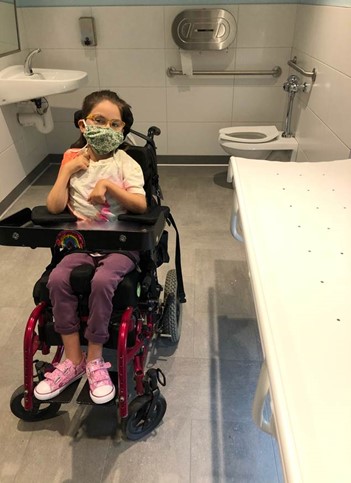 Photo: Cybèle Robichaud